I oktober 2011 var jag en av flera medarbetare från Aftonbladet som deltog på eventet Web2.0 Expo i New York.  Årets tema var " Unlock the Digital Economy." och det visade sig bli startskottet på vår resa till att arbeta mer med utveckling utifrån användaren först och förstå varför det är viktigt att investera i design och användarens upplevelse(UX) av våra produkter.
Det hela började med att vi upplevde att produktutveckling online inte var snabb nog och vi ville bygga fler tjänster ännu snabbare och med ökat affärsvärde. I kombination med att omvärlden förändras i snabb takt så ökar också osäkerheten och kraven på time to market markant. Frågan vi ställdes inför var: hur vet vi att vi bygger rätt saker och är det något användaren vill ha? Eller för att citera Phin Barnes:
"The question entrepreneurs and investors have to answer is no longer "can this be built and by who?" but, "should this be built and for who?" "
När jag blickar tillbaka på året som gått så kan jag konstaterat att vi har kommit en bra bit på resan. Både gällande hur vi utvecklar och också i ökad förståelse inom UX med fokus på nyttan.
IT-avdelningen har nu fem utvecklare som har en UX-roll både teknisk/design och varje team har en UX-designer som teammedlem för att kunna samarbeta nära produktutvecklingen i agila projekt nära PO.
I vår resa att flytta oss från print till online och fortsätta att vara först i framtiden så har vi sedan ett år tillbaka ett redaktionellt utvecklingsteam: onlinedeskteamet. UX blev en naturlig del i teamet då utvecklare tillsammans med AD, koncept/formutvecklare från print sitter tillsammans för att omvandla databasjournalistiken mot interaktiva presentationer online.
Vi har också blivit bättre på att göra researcharbete både innan, under och efter en produkt utvecklas och på det viset testa oss fram till vad användaren verkligen vill ha för att skapa en maximal upplevelse på våra tjänster.
Vi har blivit bättre på att prioritera nya funktioner utifrån vad användaren önskar utifrån önskade effektmål. Här provar vi oss fram både med personas och användarundersökningar.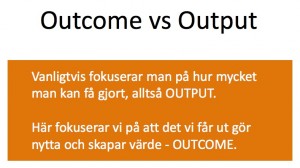 Tack till Crisp för bilden

Vi har sedan oktober en UX-grupp där UX-utvecklare träffas varje vecka för att prata om hur vi kan använda oss av vår kunskap inom UX i vår produktutveckling online utifrån kontinuerlig förbättring. Jag bad gruppen nämna tre saker de är mest nöjda med 2012: 

Det påbörjade samarbetet med kundrelationer med syfte att effektivisera kontakten med användarna
Att vi börjar jobba mer strukturerat tillsammans mellan IT, redaktion och affär.
Att vi tänker Mobile First innebär att vi bygger bättre tjänster för våra läsare.
En av de saker jag uppskattar mest och som gör mitt jobb väldigt roligt är våra innovativa medarbetare och att vi gillar att prova oss fram. Så här ser vår hypotes ut just nu för hur vi arbetar med agil IT-utveckling och UX på våra onlinetjänster. Resan har bara börjat och vi ser fram emot ett spännande 2013!