This has been a great week for me in San Francisco and RocketSpace. So many new impressions and so much to learn. I'm really amazed by how open minded people are and willing to share ideas and learnings.
The main reson for me being at RocketSpace in SF is to work on the signed in mode for Aftonbladet and personalization. I will meet a lot of companies that are related to that and investigate how far they have come here with personalized media.
I have been able to do a class for RocketU  where I describe the role of UX in a team and how we work at Aftonbladet. It was a very inspiring hour with great discussions.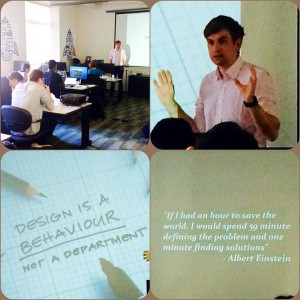 My main task this week has been to set up everything and understand how things are going at RocketSpace. A lot of the discussions has been about Consumer Electronics Show (CES)  in Las Vegas. Here is a great summery of the trends that is going to bee seen in the coming years.
The Internet of Things (IoT) and smart homes are one of the most interesting trend we see now. And from a media perspective I do think we are about to see that or users will consume Aftonbladet on all type of devices sooner rather than later.
 B.K. Yoon President and CEO of Samsung said at the (CES). 
Losing control
For a long time we have been talking about "internet is everywhere" soon. Now we can see that the time frame is really close. What dose it mean to (us) Aftonbladet? well we do not know how the new technology will effect the daily life, but we know it will have a great impact. Already we have problems with mobile and tablet because of all the different screen sizes, and this is just the beginning! So far media has always been early in adopting the new digital platforms that comes, and it is in or great interest to keep it that way.
How are we going to do that?
We are going to lose the power we have today of controlling the experience for the end reader, it was easy when we just a paper. And then we have tried to translate that to a desktop experience. Now mobile is the device where most people read Aftonbladet. Imagine when we will have 10 different channels were or users interact with our content, i e. In the computer of the: car, refrigerator, watch, TV, glasses, desktop, mobile, tablet, mirror and the list will go on. We will not have a chans to adjust the content for each gadget. 
Infrastructure
Infrastructure will be a very important thing coming years. I knew that Tobias Järlund  at Aftonbladet has talked about this a lot so this is nothing new… But everybody needs to rethink how we are going to present the great content that we are making every single day. It will be up to the users to consume our content wherever they want, and we need to make sure that it looks great on all the platforms automatically.
And when we need to rethink how we are going to present the content we also need to rethink how we produce the content. And that is a topic on its own.
Please share your thoughts on this topic.