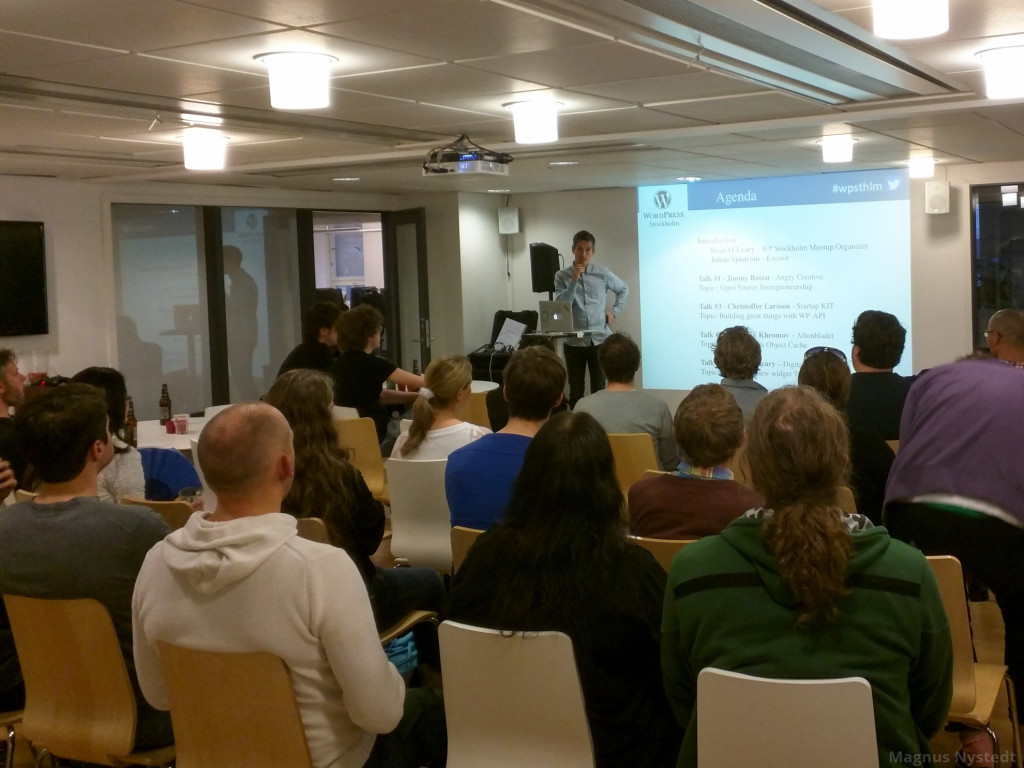 A lot of great stuff has happened in the Swedish WordPress community so far in 2015. For one, the WordPress Stockholm group on Meetup.com is on fire! Following great feedback after the first meetup, hosted here at Aftonbladet, Knowit took up the proverbial torch and hosted a second meetup in Stockholm last week.
It was a great evening with varying talks suiting both developers, designers and business owners.
Following a short introduction by organizer Ryan O'Leary and Knowit we had our first speaker: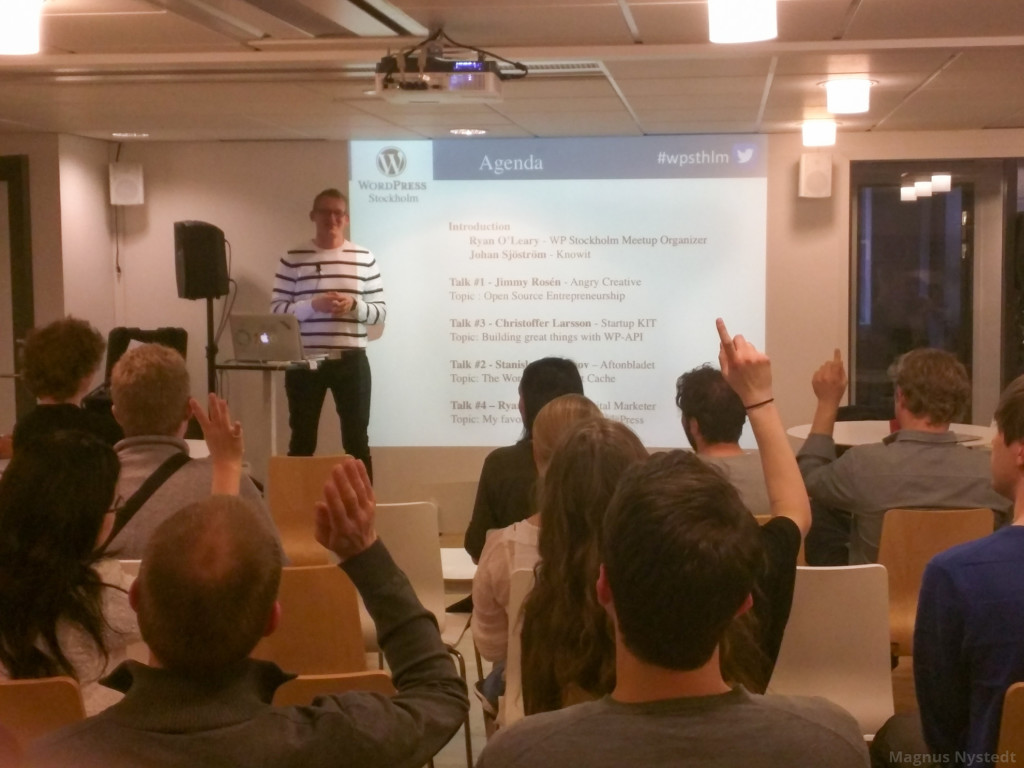 Jimmy Rosen, Angry Creative
Open Source Entrepreneurship
Jimmy has given several talks on how to run a sustainable business based on customer trust, continuous maintenance and providing clients with accurate and realistic time project estimations.
Following in that spirit, his sessions he tackled how to hire good people (GitHub may be your new resume!) and give back to the WordPress community by encouraging employees to contribute to core and releasing open source plugins.
Jimmy wrote a great blog post about the topic of his talk, which you can find here.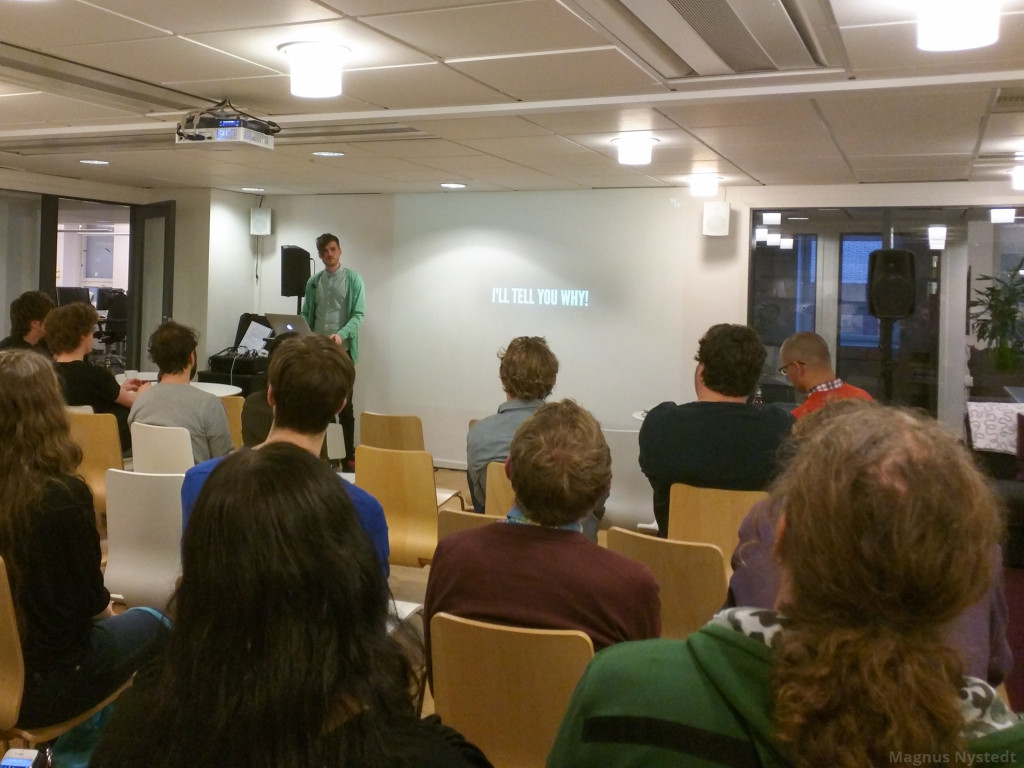 Christoffer Larsson, KIT
Building great things with WP-API
Christoffer spoke about how they built KIT.se on top of WP-API, using Angular on the frontend while utilizing the solid admin area WordPress provides to cut down on development time and focus on the important parts – the user-facing site.
Using WP-API to build sites without the traditional WordPress theme system is a hot topic, which showed pretty clearly at John Lenox talk about building themes with the WP-API at WordCamp London. and the decision to postpone its inclusion is core has done nothing to stop the excitement among developers.
Slides are available here.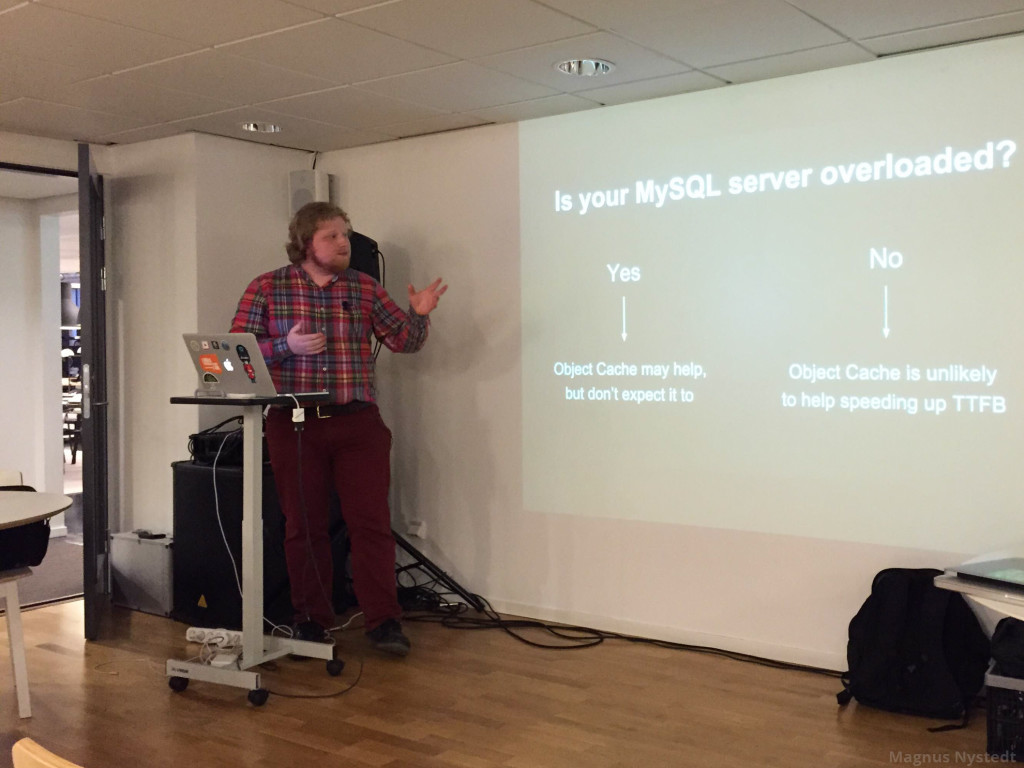 Stanislav Khromov, Aftonbladet
The WordPress Object Cache
The WordPress Object Cache is one of the pinnacles of WordPress performance. Without it we'd all be running thousands of unnecessary MySQL queries per page load. (Which was also demonstrated in the talk!)
WP Core uses the Object Cache extensively. Unfortunately, not many plugins take advantage of it. As developer awareness grows and adoption increases we will hopefully see plugins be faster and more efficient about their resource usage.
Slides – PDF & direct links are available here.
All in all, a great evening. Thanks again to Knowit for hosting! The Stockholm meetup group is taking a break this summer and will be back in August with more meetups!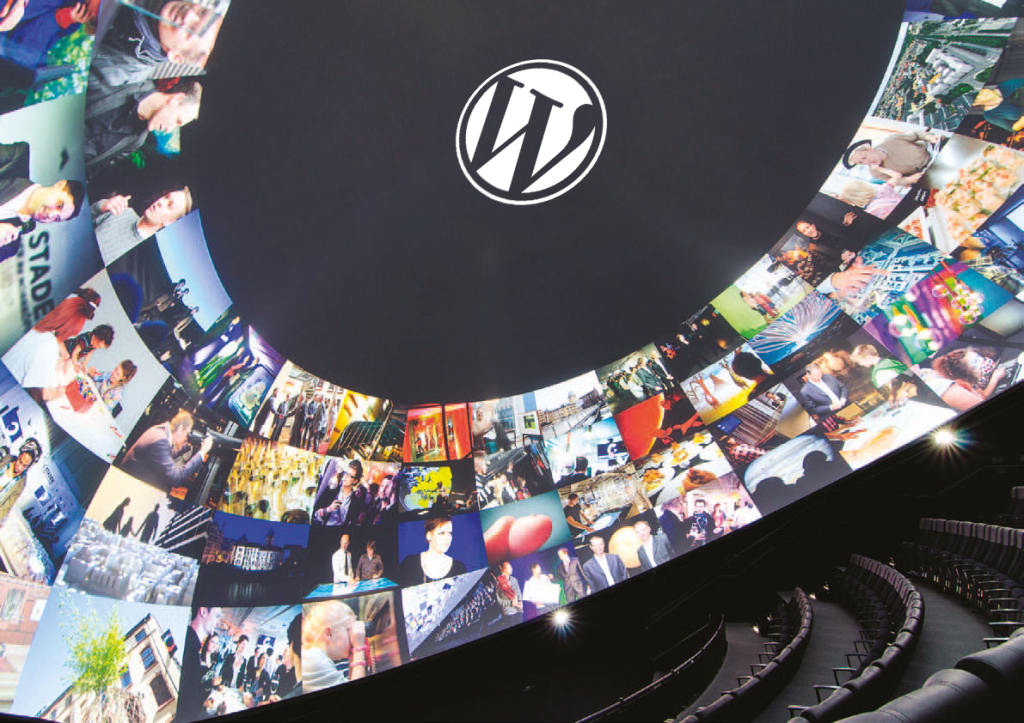 WordCamp Norrköping 2015 – August 28-29
Save the date! WordCamp Norrköping may feel far away but there's a lot you can do already! Visit the brand new 2015 site, check out the awesome new venue (also shown in the picture above!), submit a proposal to speak, or show your love for open source by sponsoring the largest WordPress event in Sweden!
WordPress Meetup Groups
Check out some of the local Meetup Groups to stay in touch with your local WP community:
WordPress Västerås (Just getting started!)
PHP Stockholm (Not strictly WP, but a great mix of developers!)
Event photos from WP Stockholm Meetup #2 – May 20, 2015
Developers wanted!
Would you like to work with these technologies and products? Do you like problem solving, web development and technology? Then maybe Aftonbladet is your future playground. We are always looking for great developers.